Why it's so hard for NATO to train Afghan forces
Corruption, drug addiction, and too many Afghan deserters, make handing over power a daunting task, say NATO officials and Western diplomats.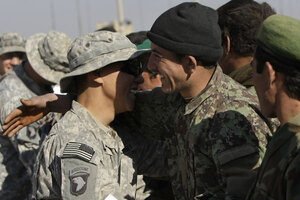 Alexander Zemlianichenko/AP
Men hurried through the dark with a stretcher, flares burst, and a helicopter thumped in to the forward operating base in southern Afghanistan. The evacuation was evidence of slick professionalism. But the casualty – a young Afghan policeman who had apparently overdosed on drugs – was an illustration of the immense difficulties facing NATO as it prepares Afghan National Security Forces to take responsibility for their country.
Handing over security to the Afghan government, as per the Lisbon summit two weeks ago, is an uphill task. Afghan President Hamid Karzai and NATO Secretary-General Anders Fogh Rasmussen want to finish transferring security by the end of 2014. Yet there are too few NATO trainers, too many Afghan deserters, and too much corruption, NATO officials and Western diplomats say, to make that a credible scenario.
A recent review commissioned by the NATO Training Mission in Afghanistan, the body responsible for strengthening the Afghan security forces, found that most Afghan police "did not know the law they were responsible to enforce," that the training mission was critically understaffed and that most ordinary Afghans see the police as a predatory militia "rather than trusted law enforcement officials." Drug addiction and illiteracy are also problems.
---