Explosion rocks one of India's holiest cities
Islamist militants are blamed for an explosion that killed a child and wounded more than 20 others in Varanasi, India – one of Hinduism's holiest sites Tuesday evening.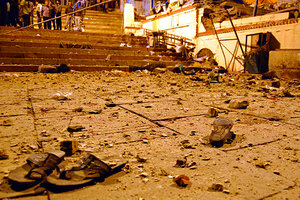 Stringer/Reuters
Islamist militants are being blamed for an explosion that killed at least one person and wounded more than 20 others at one of Hinduism's holiest sites Tuesday evening.
The blast went off during a Hindu ceremony by the river Ganges in Varanasi, an ancient pilgrimage city in the northern Indian state of Uttar Pradesh at around 6:45 pm. Police were immediately put on high alert in India's big cities.
Several television channels and newspapers said they had received e-mails from an Islamist militant group, the Indian Mujahadeen (IM), claiming it was behind the blast.
The official investigation is just beginning. But Indian security pundits say the IM is an obvious suspect: The group has carried out a string of bombings in Indian cities, most recently in the southern city of Pune this February. It is linked to the Pakistan-based Lashkar-e-Taiba militants who were behind the Mumbai attacks of 2008.
A police officer told local journalists a bomb appeared to have been hidden in a container on one of the ghats – stone staircases – that lead down to the Ganges, where people gather to say their prayers and bathe, particularly at sunrise and sunset.
The bomb is thought to have killed a baby girl and injured at least 20 more, including an unknown number of foreigners.
Pilgrims and tourists
Perhaps India's holiest city, Varanasi – also known by its older name of Benares – is always packed with Hindu pilgrims and foreign tourists.
---
Follow Stories Like This
Get the Monitor stories you care about delivered to your inbox.