An inflated claim of health success in Afghanistan exposed
A frequently touted claim that 85 percent of Afghans have access to health care is misleading and stands in the way of improvements, say health care professionals there.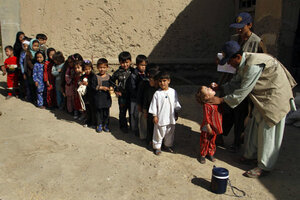 Allauddin Khan/AP
Nine years and billions of dollars into the Afghanistan war the US government is eager to show progress.
The US government estimates 6 million refugees have returned to the country and some 7 million children are back in school. And then there is the widely cited claim that 85 percent of Afghans that have access to healthcare, as in this recent report from the US Agency for International Development: "USAID and other donors have worked so that now more than 85 percent of the population has access to some form of health care, up from 9 percent in 2002."
There's just one problem, say healthcare officials in Afghanistan. That claim, also peddled by the British government's aid agency, the World Bank and at times by the Afghan government, isn't true. And healthcare workers say it's created a false sense of accomplishment that's actually undermining efforts to improve health services for Afghans.
Though it's been repeated over and over, it's not hard to see how unlikely it is. If 85 percent of Afghan's did have access to healthcare, Afghanistan would be ahead of every country in the region after three-decades of almost non-stop war.
Both the Afghan government's Minister of Health as well as the Representative of the World Health Organization (WHO) in Afghanistan say that the claim is misleading. According to the Ministry of Health, which provided the initial data, the claim stems from a misunderstanding of the fact that 85 percent of Afghanistan's districts have at least one basic health facility.
---