In Afghanistan, Taliban rise where Kabul falters
With tough tactics and promises of security, it aims to position itself as a stronger brand of government.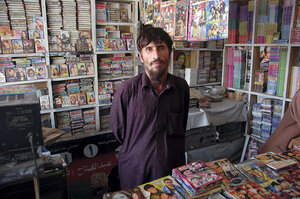 Tom A. Peter
Rahmatullah Sorkhrodi looks out of his TV repair shop through the few shards of glass left hanging in the window frame. Little more than month ago, a bomb detonated in a music and video store across the street, blowing out windows in his and other surrounding stores.
The Taliban prohibit music and videos, and the shop near Mr. Sorkhrodi is just one of several that have been attacked recently in Jalalabad.
For Sorkhrodi, who can't afford to fix the window, it's a reminder of what many people fear is the growing influence of the Taliban here. "Now everyone is scared that it is getting worse. Maybe they will use more suicide attacks."
While reported talks between the Afghan government and members of the Taliban have grabbed headlines, there are numerous indications throughout Afghanistan that the Taliban are doing anything but hanging up their guns.
Indeed, as the Afghan government suffers under its reputation for corruption, the Taliban appear to be using that to garner increasing support for their movement. Consequently, regions like Nangarhar Province that have traditionally had a limited Taliban presence may be more at risk.
"Generally the current government cannot solve all the problems in Nangarhar, because the problems don't just belong to this province," says Muhammad Hassan Haqyar, a political analyst based in Kabul. Because of that, he says, it appears the Taliban are trying to take advantage of that and work to establish themselves as a legitimate governing body.
---