Pakistan's political crisis: Prime Minister Gilani scrambles to shore up confidence
The departure of a key partner in the ruling coalition has sparked a Pakistan political crisis that could distract the government from pressing security and economic problems.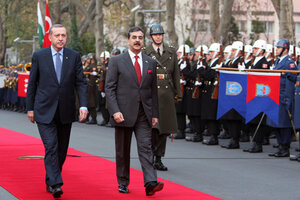 Burhan Ozbilici/AP Photo
Pakistan's civilian government faces a fight for survival after the withdrawal of a key coalition partner on Sunday left Prime Minister Yusuf Raza Gilani unable to command a majority in parliament.
The departure of the Muttahida Qaumi Movement (MQM) from the coalition led by the Pakistan People's Party (PPP) has sparked a political crisis that may prove a costly distraction to the country and its Western allies as it battles Al Qaeda and Taliban militants on its western border, all the while struggling to keep a check on inflation and a sliding economy. The MQM's move also strengthens the hand of the military should it wish to play a more direct role in governance via a puppet government, experts believe.
As of Monday afternoon, Mr. Gilani was left scrambling for new partners to avert the possibility of a no-confidence vote by the opposition which, though unlikely, could technically remove him from office. Analysts believe that even if the government continues to hold onto power without the means to pass legislation, it could hasten calls for fresh elections.
"Nothing will get done if the government limps on [without new support]," says Cyril Almeida, a columnist for Pakistan's Dawn newspaper. "Eventually something will have to give and a fresh election would be called."
---
Follow Stories Like This
Get the Monitor stories you care about delivered to your inbox.