Assassination of Pakistani governor Salman Taseer rocks Islamabad
Salman Taseer, the governor of Pakistan's Punjab Province, was seen widely as one of the country's most important political figures.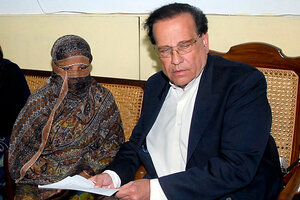 AP/File
The governor of Pakistan's most populous and powerful province, Punjab, was assassinated Tuesday in the country's capital, Islamabad.
Salman Taseer was shot by a member of his personal security detail while in Kohsar Market, a posh area of the capital popular among foreigners, authorities say.
"[His security guard] confessed that he killed the governor himself because he had called the blasphemy law a black law," said Interior Minister Rehman Malik.
Mr. Taseer drew anger from Islamists for his outspoken opposition to the country's blasphemy laws, which have recently led to a Christian woman being sentenced to death for allegedly insulting the prophet Muhammad. The killing comes at a time of political crisis for the country, as the Pakistan People's Party (PPP)-led government, in which Taseer was a key leader, struggles to hold on to power after a key coalition partner quit the government Monday.
A wave of sympathy?
The killing of Taseer was the second major political assassination in recent years following the killing of former Prime Minister Benazir Bhutto in December 2007. Her death sent the nation into convulsions and sparked a wave of sympathy that political experts believe helped the PPP ascend to power in the 2008 elections.
---