Congress brings down top auditor of Afghan corruption. Wrong target?
Congress targeted the man responsible for protecting US taxpayer dollars from Afghan corruption, but aid workers say the bigger problem is that the US is sending too much money.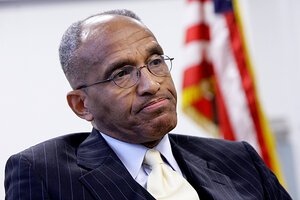 Haraz N. Ghanbari/AP/File
The US government's top auditor of reconstruction funds in Afghanistan resigned this week, after facing tough Congressional criticism that his agency was not moving aggressively enough to combat fraud and waste.
During Arnold Fields's 18-month tenure, the Special Investigator General for Afghanistan Reconstruction (SIGAR) completed 34 audits tied to $4.4 billion in reconstruction spending that led to four convictions and the recovery of $7 million of US taxpayer funds.
While a recent peer review uncovered weaknesses within SIGAR, development experts with experience in Afghanistan say that the auditors are not at the root of the problems facing the country's reconstruction. Instead, many cite the failure of US agencies and other officials to listen to the auditors – including in the halls of Congress.
"The auditing of US government-funded projects is really important, but it's not the central piece [to help end corruption and waste in Afghanistan]. It's following up on those findings," says Ashley Jackson, head of policy for Oxfam International in Afghanistan. "If you look at the audits you see the same problems pointed out time after time."
SIGAR's findings in Afghanistan
Some of the toughest – and most repeated – SIGAR criticisms of aid projects:
* Poor record-keeping. In 2009, SIGAR found that the US military did not know how many projects it was funding that year because of incomplete databases.
---