Sri Lanka floods provide chance for government, Tamil reconciliation
President Mahinda Rajapaksa has undertaken few reconciliation measures since defeating Tamil separatists. Current Sri Lanka floods provide a chance for him improve relations.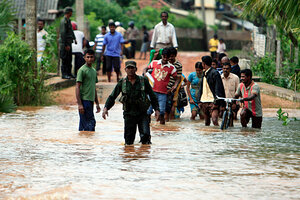 Reuters
Flooding in Sri Lanka has now affected more than a million people, many of them minority Tamils whose community recently lost a decades-long separatist fight. Government rescue and relief efforts could either help the process of reconciliation, or deepen Tamil discontent with the war's aftermath.
More than half of those affected by the flood live in the eastern district of Batticaloa, a region hit hard by both the war and the 2004 Indian Ocean tsunami.
The 2004 tsunami presented the government in Colombo, then at war with the separatist Tamils, with a similar opportunity to repair relations. But the initial goodwill quickly broke down into squabbles over the spoils of foreign aid and unequal restrictions on beachfront redevelopment.
As this latest disaster unfolds, Colombo has won the war. But in the eyes of many Tamils and foreign governments, Colombo has yet to win the peace. The flooding disaster, if handled well, could help repair the decades of distrust.
"This has been a part of the world which has been hit so hard," says Jennifer Hyndman, a professor at the Center for Refugee Studies at York University in Canada. "I think the government has a chance to impress the people affected by this disaster as well as much of the world and prove it is not dispossessing its Tamil people."
---