How the Afghanistan war became tangled in India vs. Pakistan rivalry
India-Pakistan tensions muddy US efforts in Afghanistan, where Pakistan's cooperation is needed. One key issue: Islamabad is wary of India's broadening regional role.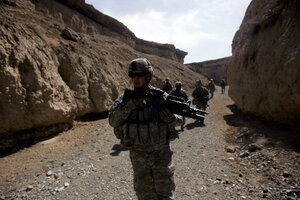 Rafiq Maqbool/AP
The resolution of the US war in Afghanistan is getting tangled up in one of the world's most stubborn rivalries: India versus Pakistan.
Pakistan cites India's influence in Afghanistan as one of its top concerns. And with Pakistan increasingly crucial to any military or diplomatic progress in the war, it's a concern that Washington has to manage.
Some current and retired Pakistani officials are hinting that as both the war and the peace efforts become more and more difficult, Washington and its Afghan allies might do more to reassure Islamabad that India won't play a major role in a future Afghan settlement.
"That, to my mind, is one of the mysteries: why the Americans have not recognized why the Pakistanis have a legitimate reason to worry about Indian involvement in Afghanistan," says Najmuddin Shaikh, a former Pakistani foreign secretary.
Instead, he says, the US is looking for a "regional solution" that would involve negotiations with not just Pakistan, but nonbordering countries like Russia and India. He calls the inclusion of India "bothersome," and says the only countries for which Afghanistan is "critical" are Pakistan, Iran, and, to a lesser extent, the Central Asian republics.
---