How an activist's death in China inspired a wave of citizen sleuthing
Qian Yunhui's suspicious death led to an unprecedented amount of detective work among Chinese citizens who were not convinced by the official version of events.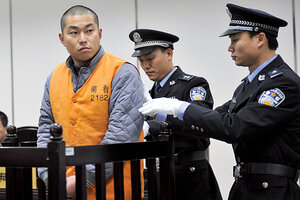 Xinhua/Newscom
Qian Yunhui died under a truck on Christmas Day in Yueqing, a village in China's eastern Zhejiang Province. But almost as soon as he had been struck down by the overloaded vehicle, accusations began circulating around Mr. Qian's hometown and online that his death was no accident at all.
Qian was a village leader who had clashed with local authorities over compensation for residents who lost their land to a power station development. Even though the police concluded he died in a routine traffic accident, many locals didn't believe it.
His death first provoked suspicion and then outrage among many Chinese who suspected murder. Shortly after Qian's death, photos of his body went viral online. Bands of social activists, connected by the Internet and motivated by the kind of mistrust of the government that is increasingly common in China, decided for the first time to challenge the authorities with their own citizen investigations.
"This is the beginning of a new dynamic in Chinese social and political development," enthuses Yawei Liu, an expert on grass-roots Chinese politics at the Carter Center in Atlanta. "These people are not just writing blogs anymore. They want to be on the ground, presenting the facts."
Citizen investigators
---