Kabul suicide attack: does uptick in violence signal a fresh Taliban campaign?
Until the recent suicide attacks in Kabul, coalition officials were holding up the capital's relative peace as a sign of progress in their fight against the Taliban-led insurgency.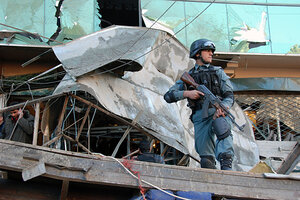 Tom A. Peter
A bombing in the heart of Kabul shook the city Monday as militants carried out their second major attack inside the capital in less than a month, highlighting an uptick in violence that could indicate a new Taliban campaign.
A group of four gunmen opened fire on the guards at Kabul's prominent Safi Landmark hotel and shopping center, and one of the attackers detonated a suicide bomb in the main entrance, killing two guards and injuring at least two more.
Monday's attack comes just after nine people were killed in the Jan. 28 bombing at Finest, a Kabul supermarket popular with Westerners. The Taliban claimed responsibility for both today's attack and the Finest attack, saying that they were targeting the head of the Blackwater security company, now known as Xe Services.
Although Afghanistan just finished a year of record violence, the capital city remained relatively quiet, with most of the fighting located in the volatile southern and eastern areas of the country. Some international security officials had begun citing the quiet and lack of violence in Kabul as a sign of progress there. With the two bombings coming in quick succession, however, it appears that militants may now be stepping up attacks in Kabul.
"The Taliban and Al Qaeda want to show that they're still active and can do what they want," says Hilal Oddin Hilal, a member of parliament for Baghlan Province. "The Taliban can still have their terrorist attacks anywhere they want, even in Kabul … [and] our intelligence organizations have not been able to find the terrorists until now."
---