Why India's PM Singh pledging sharper attack on corruption
Indian Prime Minister Manmohan Singh has been under political pressure to address corruption more directly. New data indicate that corruption concerns are affecting both foreign and domestic investment decisions.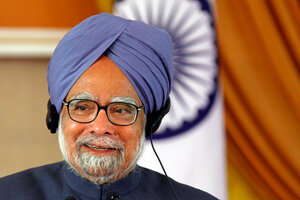 B Mathur/Reuters
India's Prime Minster Manmohan Singh pledged to crack down on corruption even as new data indicates that the problem is dragging on Indian investor confidence.
"I wish to assure the country as a whole that our government is dead serious in bringing to book all the wrongdoers, regardless of the positions they may occupy," said Mr. Singh in a news conference Wednesday.
Singh faced a media that has been fixated for months on a raft of corruption scandals, ranging from a questionable telecom spectrum fire sale to the fudging of construction safety tests in the runup to the hosting of the Commonwealth Games last summer, an international sporting event.
Corruption scandals, which have also shot to the top of voter concerns, have emboldened the opposition and stymied the Parliament's winter session, putting pressure on Singh to address the problem more directly.
But the pressure isn't just political. The business community has also weighed in, with some titans of industry writing an open letter in January to Singh, himself an economist, calling for a "war" on corruption. Their concerns about corruption's impact on India's rapid growth are bolstered by recent data.
Investment analysts in January found evidence that corruption concerns were a factor in declining foreign investment in India. Now, a survey released Monday finds that domestic investors in India cite corruption as a top problem clouding the investment climate.
---