Suicide attack in Afghanistan's north signals broader reach of Taliban
An Afghan Taliban suicide bomber killed at least 31 people today in Afghanistan's northern Kunduz Province. The north has long been devoid of the Taliban's influence.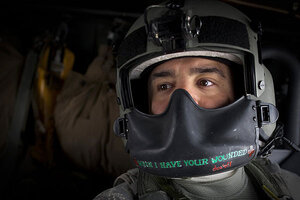 Anja Niedringhaus/AP
A suicide bomber attacked a crowd of Aghans waiting to get government identification cards and other official documents today, killing at least 31 people in the north's traditionally quiet Kunduz Province. The bombing underscores the expanding reach of insurgents and may signal that grievances against the local government are pushing more people into the arms of the Taliban.
The Taliban have claimed responsibility for Monday's attack, which took place in the Imam Sahib district. It comes little more than a week after the district governor of the nearby Chardara district was assassinated in a targeted Taliban attack.
While such attacks are not uncommon throughout Afghanistan's more restive areas, areas such as Kunduz that have long been devoid of the Islamic militant group's influence. With top commander Gen. David Petraeus warning that the growing insurgency in the northern region may prolong fighting in Afghanistan, today's attack is likely to put the problems of the north into sharper focus for NATO and the Afghan government.
Discrimination against Pashtuns raises tensions
The insurgency's northward expansion is often explained as the result of militants trying to escape the intensified NATO and Afghan military push in the south and east. However, it may have much more to do with mounting ethnic tensions and the exclusion of Pashtuns from the political system there.
The problems are largely internal, and sending more NATO forces is unlikely to change the situation, say most locals. Any solution will require a concerted effort by the Afghan government to restore the peace.
---