India wants fighter jets – but without American baggage
As Boeing vies for a contract to build 126 new fighter jets for India, an estimated 35,000 new US jobs are at stake. But America's foreign policy may tilt India toward European firms instead.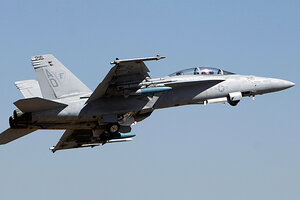 Aijaz Rahi/AP
An Indian Air Force pilot dressed in a flight suit and sunglasses struts up to an F/A-18 flight simulator and a Boeing salesman engages.
"Your call sign must be Maverick," says the Boeing agent, referencing "Top Gun," an '80s film probably older than this Indian jet jockey. "You look like Tom Cruise."
After a curt "no," the Indian pilot asks to test out the machine. He lauds the F/A-18's maneuverability and touch-screen cockpit display. It's a far cry from what he currently flies: A Soviet MiG-21 that was outdated even in Maverick's day. India is looking to buy 126 new fighter jets and Boeing is dogfighting against five international firms to land the deal this year.
IN PICTURES: World's Top 10 Military Spenders
Despite some of the sales tactics on display at the recent Aero India 2011 show in Bangalore, there's more to selling fighter jets than moving Chevys. Giving "test-drives" and offering value for money is important, but so are international politics. And on that score, US firms have hurdles that European competitors do not.
Much is at stake for the American economy, including a $10 billion-plus sale and an estimated 35,000 new US jobs. Trips by presidents Barack Obama and George W. Bush to India have increased US chances of bringing home that bacon. But America's not-so-humble foreign policies over the years may prove costly in an era of strong European competition in the defense industry.
---