Murder of Christian lawmaker: Can Pakistan check Islamic extremism?
Shahbaz Bhatti, a Christian and Pakistan's minority affairs minister, is the second top official in the past two months to be killed after opposing harsh blasphemy laws. Critics say the country isn't doing enough to protect minorities.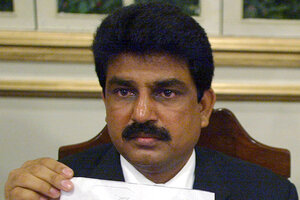 Anjum Naveed/AP
Islamabad, Pakistan; and New Delhi
A leading Pakistani Christian lawmaker who had campaigned for reform of the country's blasphemy laws was shot dead on Wednesday, adding to concerns the government is unwilling or unable to check Islamic extremism.
Shahbaz Bhatti, Pakistan's minister for minority affairs and the second politician to be targeted for this reason in as many months, was leaving his mother's house for work when his car was attacked by two gunmen carrying machine guns, according to multiple eyewitnesses. He died while being taken to hospital, having received eight bullet wounds, according to Islamabad Police Chief Wajid Ali Khan.
Pamphlets dropped on the scene by Mr. Bhatti's killers and signed by the Pakistan Taliban accused him of having "insulted the prophet" and warned "others who try to reform the blasphemy laws will meet the same fate." In January, Salman Taseer, the former governor of Punjab, was killed under similar circumstances in a posh market area of Islamabad. The failure to prevent such attacks, though both politicians received credible threats beforehand, is indicative of the low priority given to maintaining law and order protecting minorities, say some experts.
---