This time, murder of Pakistan minister spurs condemnation from Islamic clerics
Many Islamic clerics criticized the murder Tuesday of Shahbaz Bhatti, a Pakistani Christian who called for blasphemy law reform. Two months ago several hundred lauded the murder of another politician who strongly advocated reform.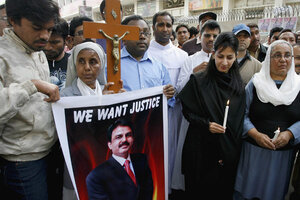 Akram Shahid/Reuters
New Delhi; and Islamabad, Pakistan
Officials from Muslim political parties and religious groups in Pakistan are reacting more negatively to yesterday's assassination of Christian cabinet minister Shahbaz Bhatti than to the killing two months earlier of Gov. Salman Taseer. The change highlights the specific combination of religious offense and political expediency that drove many to condone Governor Taseer's killing.
Both men were killed after calling for changes to the country's blasphemy law, which includes the death penalty for disrespect of Islam. Following Mr. Taseer's death, hundreds of Islamic clerics signed a statement supporting the killing, lawyers showered the assassin with rose petals, and Muslim political parties offered qualified condemnations, if any at all.
But so far, few beyond the Pakistani Taliban – who claimed responsibility – are openly supporting Mr. Bhatti's slaying. The difference: Bhatti had phrased his criticism of the law more discreetly, and by the time of his assassination, the government had already completely backed down.
"We wholly condemn the killing of Shahbaz Bhatti," says Nawaz Kharal, spokesman for the Sunni Ittehad Council, which represents the Barelvi current of Sunni Islam. The secretary general of the council, along with other top Barelvi leaders, signed the statement of support for Taseer's killing and pressured followers not to attend his funeral.
"At the time Salman Taseer was killed there was a whole movement to dismantle the blasphemy laws. When Bhatti was killed, that movement had finished," says Mr. Kharal.
Additionally, Taseer couched criticism of the blasphemy law in harsher terms than Bhatti, calling the law a "black law."
---