US air power: Made in India?
Lockheed Martin and Boeing bid to outsource aerospace assembly. That could seed a manufacturing bonanza for New Delhi.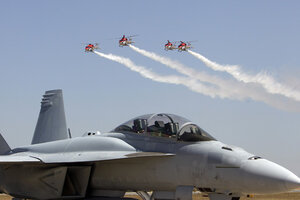 Aijaz Rahi/AP
B. Praveen beams as he explains why the molded magnesium jet part in front of him represents a major step forward for Indian aeronautics – and coming competition for one of America's last bastions of high-end manufacturing jobs.
With his finger, he traces the tunnels underneath the metal surface that carry oil seamlessly through the block. Workers at Hindustan Aeronautics Ltd. (HAL) succeeded in pouring liquid magnesium into every swiss-cheese crevice before the metal hardened.
"In this industry, we don't do things for 'good enough.' We do things perfectly," says Mr. Praveen, a HAL representative at Aero India, Asia's largest air show. "Originally we had some tie-ups with some [global] companies. From that learning, we have started making our own."
India is on the prowl for another such tie-up: an international order for 126 jet fighters. The goal is the same: To learn quickly how to make them at home. The two US firms bidding for the deal see not only a multibillion-dollar sale, but a chance to eventually outsource more manufacturing work to lower-wage India.
---