CIA contractor Raymond Davis freed from Pakistan jail on 'blood money'
A Pakistani court freed detained CIA contractor Raymond Davis, who was charged with killing two men, after families of the deceased accepted a 'blood money' deal. The US denies it paid the money.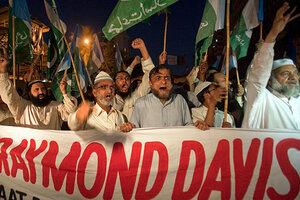 Akhtar Soomro/Reuters
A CIA contractor held by Pakistani authorities was acquitted of two counts of murder Wednesday after blood money was paid to the families of the two men he shot dead. The verdict brings an end to a diplomatic row between the US and Pakistan that began after the contractor's arrest in late January, but could lead to further unrest here.
Protests by religious parties broke out in Lahore near the US consulate Wednesday evening as 200 protesters, angered by the verdict to free Raymond Davis, burned tires and scuffled with police.
"This was not a case of personal enmity resulting in murder – it's an act of terrorism of an American citizen and blood money [should] not [have been] applicable," says Yahya Mujahid, a spokesman for Islamic charity Jamat-ud-Dawa, which experts believe is a front organization for Laskhar-e-Taiba, the militant organization Davis was apparently observing in reconnaissance missions.
The Pakistani government, by contrast, had hoped to save face in public by allowing the courts to decide on the politically sensitive issue. "The Raymond Davis issue was decided under Pakistani laws in a Pakistani court," said President Asif Al Zardairi's spokesperson Farhnaz Ispahani in a tweet shortly after the verdict.
---