Karzai announces Afghan forces ready to take over some provinces
President Hamid Karzai said Tuesday that the people of Afghanistan no longer desire to see international forces defend their country for them.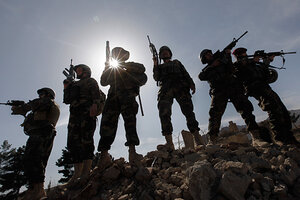 Dar Yasin/AP
President Hamid Karzai announced Tuesday plans to transition authority of seven areas from international forces to Afghan security forces beginning in July, the first official step in what is likely to be a long and gradual drawdown of foreign forces from Afghanistan ahead of the 2014 deadline to end major combat operations.
The move will test the readiness of the Afghan Army and police to assume control of their country and determine the speed at which other areas can assume responsibility. Still, many of the areas to be transitioned are largely peaceful, leaving observers skeptical that the move will demonstrate the readiness of Afghan security forces to protect civilians in more volatile areas.
A former lawmaker from Kandahar and a retired Army general says that the transition, even in the more peaceful areas of Afghanistan will not succeed because the Afghan government remains ineffective. "The government is also responsible for security, not just the security forces," says Noor-ul-haq Olumi. "Since we have a weak government, it will be useless to take control of the security in any area of the country."
Karzai made his announcement at a graduation ceremony for Afghan Army officers at the National Military Academy of Afghanistan saying, "We also understand that the people of Afghanistan no longer desire to see others defend their country for them." He added that the transition would be "irreversible" and that he would soon announce the second phase of the transition.
---