Pakistan allots land to women in an effort to end a cycle of debt
Some 5,800 peasants in Sindh province are set to receive farmland previously designated as government-owned flood runoff. By the end of March, some 92,000 acres will be allotted to women only.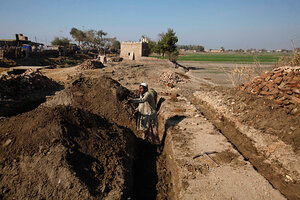 Akhtar Soomro/Reuters
More than six months after the worst floods in Pakistan's recent history soaked this village in one of the poorest corners of the country, farmers are still trying to clean up standing water and heavy silting so they can begin sowing their seeds.
When the fields are cleared, Nimat Khatoon, a 50-something peasant farmer who has worked for the wealthy owner of these fields since her childhood has something worth the wait: a four-acre slice of land to call her own.
"It's something I couldn't dream of seeing in my lifetime. We're so happy," she says with a toothy grin, as her children play around her home made of wooden slats and a thatched roof.
Ms. Khatoon is one of some 5,800 peasants in the province of Sindh to receive farmland, previously designated as government-owned flood runoff, from the provincial government over the past two years. A total of 95,000 acres has already been doled out, and in March another 92,000 acres are to be allotted to women only.
The land allocations could help break the cycle of debt accrued by landless peasants, and serve as a jump-start to those whose livelihood was threatened even after the floods receded.
"Land is the main source of wealth in rural Pakistan," explains Amil Khan, a spokesman for the charity Oxfam, which is assisting the government with the project. "If you have no land you don't have a stake in the system."
Cycle of debt
Indeed, seeds and fertilizers are provided by landlords to tenants who are then forced into high interest rates when repaying their debt. What's more, it has become the norm for landless farmers to receive far less than half the profit from the crops, and use most of that to begin paying their never-ending debt.
---