Kazakhstan's snap elections draw international criticism
International observers point to serious irregularities during the Sunday snap presidential vote in Kazakhstan that resulted in a sweeping victory of longtime incumbent President Nazarbayev.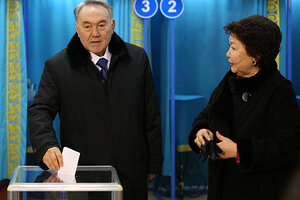 Nikita Bassov/AP
Almaty, Kazakhstan; Moscow
Pro-democracy turmoil may be shaking the foundations of one-man-rule in nearby Middle-East states, but Kazakhstan's longstanding leader, Nursultan Nazarbayev, doesn't seem perturbed.
The only leader the petroleum-rich, mainly Muslim central Asian nation of some 15-million has known since before it achieved independence from the Soviet Union 20 years ago, President Nazarbayev was reelected Sunday for another 5-year term with 95.5 percent of the votes, outshining even his own previous 2005 record of 91.2 percent.
International observers slammed the election as having "serious irregularities," and some domestic critics denounced it as merely "decorative," but Mr. Nazarbayev on Monday pointed triumphantly to the massive voter turnout – as high as 90 percent, according to some reports – as proof that Kazakhstan supports him.
"Of course this is a sensation for Western countries," Nazarbayev told hundreds of flag-waving, chanting supporters at a victory rally in the capital, Astana.
"In other countries, elections divide the nation into various party blocs, but we are united. While the world sees much bloodshed and ethnic conflict, all of the ethnic and religious groups in Kazakhstan are united as one."
None of Nazarbayev's three nominal opponents received more than 2 percent of the votes. They included Zhambyl Akhmetbekov, head of a pro-Nazarbayev splinter group from the Kazakh Communist Party, and pro-government Sen. Gani Kasymov.
---