Why did Karzai spotlight Terry Jones's Quran burning?
Although US and international officials have placed the blame for this week's deadly Afghanistan protests squarely on Florida pastor Terry Jones for burning a Quran, many also blame Afghan President Hamid Karzai for spotlighting the issue.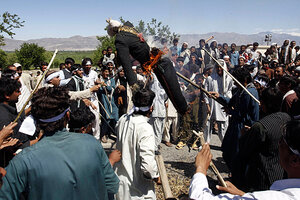 Parwiz/Reuters
The dust is settling after five straight days of deadly protests in Afghanistan over US pastor Terry Jones's burning of the Quran, but the political fallout could be just beginning.
There is a growing sense among a number of diplomats here that the demonstrations were provoked by Afghan President Hamid Karzai.
Nearly two weeks passed without incident after Mr. Jones and his congregation of about 30 followers burned a Quran in Florida on March 20.
Then, on March 31, President Karzai made a speech condemning Mr. Jones and calling for his arrest. A day later, protesters stormed the UN compound in Mazar-e-Sharif, killing seven foreign employees and triggering demonstrations across Afghanistan that left a total of 22 people dead and scores injured.
Although US and international officials have placed the blame squarely on Jones in public statements, many are beginning to question why Karzai drew attention to the Jones incident at all. While it's unlikely that he intended to spark such violent protests, his recent history of anti-Western remarks and actions indicate that he may have wanted to use the incident to vent his frustration with the continued foreign presence in Afghanistan.
---