Young Kashmiri activists yearn for an 'Arab Spring' - and more Western attention
US support for Arab uprisings is reinvigorating a drive among Kashmiri youth for independence. But they want to accomplish it peacefully.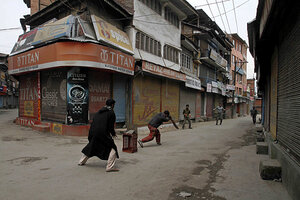 Mukhtar Khan/AP
Srinagar, India-controlled Kashmir
Ask Kashmiris about the uprisings in the Middle East and their frustration shows.
Rashid, a young computer professional, recalls how he joined last summer's street marches for freedom, survived India's police crackdown that killed 117 protesters, and watched as the events got only a sliver of the coverage now given to countries like Libya.
But as the winter snows recede from the circling Himalayan peaks, residents living among the barracks and barbed wire that attest to India's heavy presence here wonder if a touch of the Arab Spring might blossom in Kashmir. Such a development could attract the international attention that they argue is desperately needed for peace.
"In Tunisia and Egypt, behind the success of these revolutions is only media. We want international media to cover our issues because we know the results of peaceful protests in [Egypt's] Tahrir Square," says Rashid, who uses a false name out of fear of detention and torture.
What Kashmir's young independence activists most want the world to grasp is that the protracted fight for Kashmir has broken from its roots in a territorial tug of war between India and Pakistan. Instead, it has become an independence movement led by the two-thirds of Kashmiris who are under age 30 and fed up with living in a police state.
Particularly of interest to world powers, they say, should be their resolve to resist without guns.
---