Taliban attack signals focus on infiltrating security forces
An attack in Kabul on Monday suggests that the Taliban have shifted from direct engagements with NATO and Afghan forces in favor of being able to infiltrate secure compounds and carry out suicide attacks.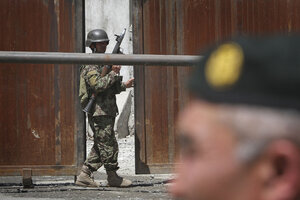 Musadeq Sadeq/AP
A man dressed in an Afghan military uniform entered the Ministry of Defense in Kabul Monday and opened fire, killing at least two people and injuring seven. The incident – which preceded a press conference with the Afghan and French defense ministers – marks the third time in four days that an attacker dressed in an Afghan police or military uniform has infiltrated a secure compound and carried out a lethal attack.

The wave of killings has created speculation that insurgents may be shifting their focus away from direct engagements with NATO and Afghan forces and investing their resources in infiltrating Afghanistan's security forces so they can carry out complex suicide attacks.
"The enemy has entered every part of the government. They are everywhere, whether it's government institutions or our villages. The enemy has even infiltrated the Afghan Army and police, working there for years and gaining trust, and now they can carry out attacks whenever they want," says Noor al-Haq Olumi, a former Afghan Army general. "This year I believe it will be more violent because there will be more attacks like this one today."
The recent wave of killings began on Friday, when a man dressed as a policeman entered the police headquarters in Kandahar city and detonated a suicide bomb that killed three people, including the provincial police chief, and injured three others. The following day, five NATO soldiers were killed alongside four of their Afghan counterparts when a suicide bomber dressed in an Afghan military uniform detonated himself at a joint NATO-Afghan base in Laghman Province.
---