Sai Baba: In modern India, traditional guru still has powerful influence
The passing of Indian guru Sai Baba spurred an outpouring from millions of devotees. While gurus often draw from Hindu traditions, the 'godman' phenomenon also reflects the spiritual needs of modern, middle-class India.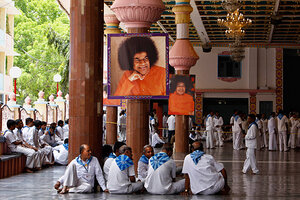 Aijaz Rahi/AP
Sathya Sai Baba held a venerable position in India. He was one of its best-known gurus, who are sometimes known as "godmen" here.
The informal term applies to spiritual teachers whose charisma, claims of supernatural powers, and charitable work have won them millions of devotees in an modern age of high-tech communications and rising prosperity. Indeed, the outpouring in response to Sai Baba's passing this weekend – from India's top politicians to pop icons – reflects just how much influence the traditional guru phenomenon still holds in modern middle-class India.
"India has Hinduism – which is disorganized, no church, no text – and the godmen, who are superbly organized," says Shiv Visvanathan, a sociologist based in Gandhinagar, India. "The best management [in India] is around religion."
He points to an effort by Sai Baba to bring clean water to 750 villages in the state of Andhra Pradesh. In a matter of months, he says, his followers transformed Sai Baba's wish into "a complete program of the kind neither the government nor the United Nations can pull off."
Such feats are helped by India's rising cadre of middle class who have organizational and technology skills – and money. Sai Baba's organization, which funds numerous educational, medical, and social-uplift projects, is reported to be valued at $9 billion and involve millions of devotees.
That ability to mobilize and help communities gives such spiritual leaders enormous temporal sway.
"I can't think of a bureaucrat or politician who would do anything without consulting these godmen," says Dr. Visvanathan. "I would call them the true Fourth Estate – it's not the media, it's the godmen."
---