Osama bin Laden killed: What Afghans think
Although Osama bin Laden's presence in Afghanistan tipped off the Afghanistan war, most Afghans say they don't see Mr. Bin Laden as someone who affects their lives.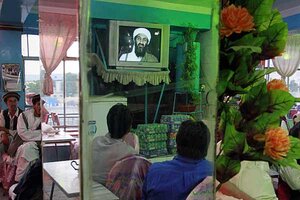 Musadeq Sadeq/AP
For many ordinary Afghans, the death of Osama bin Laden in Pakistan is hardly worth mentioning. Although his presence in Afghanistan caused the US and its NATO allies to invade in 2001, most Afghans don't see Mr. Bin Laden as someone who directly affects their lives.
"Since he was a Muslim, I'm saddened to hear the news that he got killed, but beyond that I don't care about his leadership or his goals," says Rangeen Kaman, a barber in Kabul.
Throughout Afghanistan, nearly 24 hours after a US special forces raid killed bin Laden, many Afghans hadn't even heard the news, nor did they appear terribly interested upon learning it. Others say they were pleased about the revelation, or that the Al Qaeda leader did not represent them or Islam. Still, for a number of Afghans, the death of bin Laden is a cause of great sadness.
"I'm really happy today. Since I first heard the name Osama, he has never done anything good for Afghans or the Muslims of the world," says Jana Khan, a musician in Jalalabad. "The ideas of Osama were completely un-Islamic."
Bin Laden first came to Afghanistan to help the mujahideen fight against the Soviet occupation. Among jihadi leaders, he developed a good reputation. After forming Al Qaeda, he returned to Afghanistan in 1996 when he was expelled from Sudan. Following the 9/11 attacks, the Taliban refused to handover the terrorist leader, prompting the NATO invasion into Afghanistan in 2001.
---