Osama bin Laden's death: What it means for Taliban fight
The Taliban say Osama bin Laden's death won't affect them. But assessments are mixed.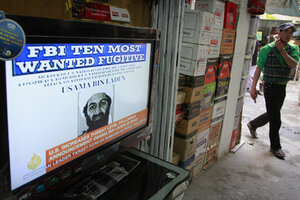 Musadeq Sadeq/AP
Afghanistan's Taliban, who once gave refuge to Osama Bin Laden, say that the Al Qaeda leader's death today will not damage their battle readiness. But officials and analysts give mixed assessments of whether militant operations will be thwarted going forward – and say that the news at the very least is likely to dent morale among both Al Qaeda and the Taliban.
"It's a big loss for the Taliban and Al Qaeda, but the fight will continue in his absence and the insurgency work will go on. Even if there is just one Talib or Al Qaeda fighter is left, they will die fighting," says a Taliban member who asked to remain anonymous for security reasons.
Intelligence sources located Bin Laden's compound in the city of Abbottabad, less than a kilometer from the Pakistan Military Academy, the Islamic nation's equivalent to West Point. Following a shootout and an American helicopter crash, US forces reportedly took custody of Bin Laden's body, which officials say was later given a proper Islamic burial at sea.
"Of course we are human and we have feelings. At one moment, we feel like it shouldn't have happened, but overall I think this was a great chance for him to get martyrdom," says another Taliban fighter in Pakistan who maintains ties with Al Qaeda fighters. Still, he adds, " [Bin Laden's death] will never affect the operations of Al Qaeda or the Taliban."
---