While world focuses on Osama bin Laden's death, Afghan war heats up
The death of Osama bin Laden is a major victory for the US, but experts say it's unlikely to have any immediate impact on the ground in Afghanistan.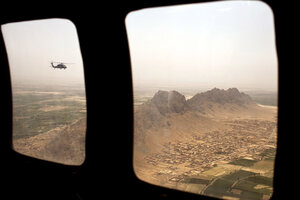 Kevin Frayer/AP
For many Americans, the death of Osama bin Laden seems to have recalled the original intent of the war in Afghanistan: to eliminate it as a haven for terrorists.
But as the war heats up, with the Taliban launching its spring offensive, so is talk among foreign policy experts about how long American support for it will last now that Mr. bin Laden is dead.
There are few indications, however, that even with the mastermind behind 9/11 out of the picture, the security situation in Afghanistan will improve.
Throughout the past several days, Taliban militants attacked security forces in Nuristan Province, wounding six policemen Tuesday night. A NATO air strike reportedly killed seven Taliban in Nangarhar Province early Wednesday morning, and on Tuesday an International Security Assistance Force soldier died in a roadside bomb attack in eastern Afghanistan.
"It's possible that fighting will continue at least in the short- to medium-term, and in that regard one can say that the death of bin Laden isn't going to significantly bring down those levels of fighting," says Farzana Shaikh, an associate fellow for the Chatham House's Asia Program. She adds, "bin Laden's death provides an opportunity for President Obama to begin serious negotiations toward a political settlement in Afghanistan."
---