South Korea's Olympic effort to win an Olympic bid
South Korea is pulling out all the stops in its third bid to host a Winter Olympics. Can it beat out iconic, Alps-filled Germany and France for the 2018 Games?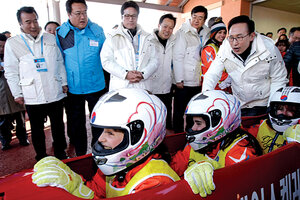 Ahn Young-joon/Reuters/File
Here in South Korea's "snow country" the white stuff stays on the ground from November through March. In a region where some of the Korean War's fier­cest battles were fought, the government is investing more than $2 billion in new facilities for winter sports.
It's part of an all-or-nothing bid for the 2018 Winter Olympics in this winter wonderland of rolling peaks, 60 miles east of Seoul.
Hopes are incredibly high. Charm Lee, a German who took a Korean name, became a Korean citizen, and now is president of the Korea Tourist Organization, is confident Pyeongchang has the edge over the leading competitor, Munich. "That's Old Europe style," says Mr. Lee. "Korea is 'New Horizons.' "
Having lost two previous Olympic bids to Vancouver, British Columbia (2010); and Sochi, Russia (2014); Koreans see the 2018 Olympic bid as more than critical to their national pride. They want the rest of the world to know that winter sports are not just for Europe and North America, and they can compete with the best when it comes to doing it right.
---