Why bin Laden killing won't dampen Afghan fight
Even though the Taliban has ties with Al Qaeda, the Afghan militants are focused on fighting a national insurgency, not waging global jihad.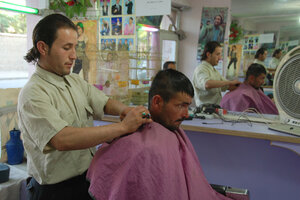 Tom A. Peter/Special to TCSM
As the Afghanistan war heats up with the launch of the Taliban's spring offensive, so does talk among foreign-policy experts about how long American support for it will last now that Osama bin Laden is dead.
Yet there are few indications that even with the Al Qaeda mastermind behind 9/11 out of the picture, the security situation in Afghanistan will improve.
In recent days, Taliban militants attacked security forces in Nuristan Province, wounding six policemen. A NATO airstrike reportedly killed seven Taliban in Nangarhar Province early on May 4, and on May 3 an International Security Assistance Force soldier died in a roadside bomb attack in eastern Afghanistan.
"It's possible that fighting will continue at least in the short- to medium-term, and in that regard one can say that the death of bin Laden isn't going to significantly bring down those levels of fighting," says Farzana Shaikh, an associate fellow for the Asia Program at Chatham House, a London think tank.
---