After bin Laden: India sees opportunity in Afghanistan
India's prime minister is in Kabul to argue for an Indian role in the Afghan peace process. Pakistan could be worried that the mood in Kabul may have tipped in India's favor after bin Laden's death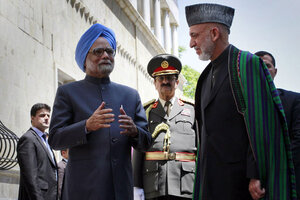 Musadeq Sadeq/AP
India is seeking to expand its role in Afghanistan in the wake of Osama bin Laden's killing – but only modestly, showing that even a chastened Pakistan still holds significant leverage over war and peace here.
"We are a second-rate player. We don't have the geography to be the principal player" in Afghanistan, says C. Raja Mohan, an Indian security analyst. But the international intrigue in Kabul has taken a turn in India's favor after bin Laden. "Previously it looked like the whole thing was against us and now there are more possibilities."
On a visit to Kabul today Prime Minister Manmohan Singh underscored India's support for Afghanistan, backing peace talks with the Taliban and pledging new aid that will bring its total support for the war-torn country to $2 billion.
"India is your neighbor and partner in development," Singh told Afghan President Hamid and other senior officials. "You can count on us as you build your society, economy and polity."
But by backing talks with the Taliban, Singh risked the displeasure of India's closest Afghan allies, which are against negotiating with the insurgent group and against a peace process that will rely heavily on Pakistan. Despite those ties, he appeared uninterested in backing the movement that would push hard against the Taliban – and by extension, Pakistani interests – in any talks.
---