In India, communists ousted in 2 of 4 state elections
The elections in four Indian states were read as something of a 'midterm' referendum, highlighting mounting concerns over corruption and lagging development.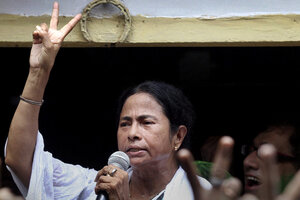 AP Photo
Indian election results Friday showed renewed strength for the central government's ruling coalition, but also highlighted mounting voter concerns over corruption and uneven development.
Allies of the ruling Congress government won regional elections in West Bengal, Kerala, and Assam, but lost in Tamil Nadu amid a major corruption scandal there and a popular anticorruption sentiment sweeping the nation. The 140 million voters from these four states – out of 29 states nationwide – represent one-fifth of India's voting population.
These state elections came several years between national elections and are read partly as a "midterm" referendum on the national government. But state politics have their own dynamics, and the mixed results suggest national corruption scandals swirling around the Congress party were not enough to trump other concerns, including lagging development.
The Congress party narrowly retained power in Assam, and also ousted the communist parties in West Bengal and Kerala that opposed some of the Congress government's market reforms. The communists have ruled West Bengal since 1977, a period in which the region lagged behind much of the dynamic growth seen in other parts of the nation. In Tamil Nadu, however, the ruling Congress party lost power to the AIADMK party (All India Anna Dravida Munnetra Kazhagam).
Land rights issues hurt communist party
While pilloried for its poor economic record, the communist government in West Bengal stirred up some of its fiercest criticism several years ago when it tried to bring development to the state. The automobile maker Tata wanted to locate a factory there that would build the Nano, the $2,200 pint-sized car.
To make the project happen, the West Bengal government acquired land from farmers to turn over to Tata. However, the farmers protested the deal and eventually forced Tata to pull out. Land acquisition remains contentious in India and has held back the country's economic progress.
---