Kerry visits Pakistan to smooth relations. Will it work?
Despite Senator John Kerry's visit to Pakistan and his announced agreements to calm ties, the mistrustful relationship between the US and Pakistan is unlikely to change soon, warn analysts.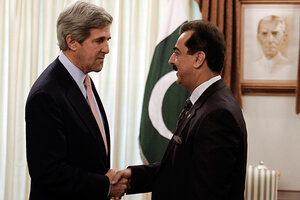 B.K.Bangash/AP
In a visit widely seen as an attempt to smooth relations between Pakistan and the US after the raid to kill Osama bin Laden two weeks ago, Sen. John Kerry called the two countries "strategic partners with a common enemy in terrorism" Monday.
Amid growing calls among US lawmakers to cut aid to Pakistan, suspected of harboring militants like Mr. bin Laden, Senator Kerry announced a series of steps he and Pakistan's civilian and military officials agreed upon to improve ties, and announced that Secretary of State Hillary Clinton would also visit Pakistan shortly. Despite these measures, however, the relationship's underlying mistrust and duplicity are unlikely to change soon, warn analysts.
"You'll go from crisis to crisis, you'll hit rock bottom but pull through unless there is something really catastrophic, like another Times Square incident," says Moeed Yusuf, South Asia adviser at the US Institute of Peace in Washington.
---