What Pakistan Prime Minister Gilani wants from China
The Pakistan premier may be trying to forge a loose alliance between China, Pakistan, and Afghanistan to undermine US influence in the region.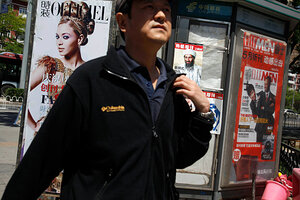 Ng Han Guan/AP
As Pakistani Prime Minister Yousuf Raza Gilani meets his counterpart in China this week one country will likely be hidden somewhere on the agenda: Afghanistan.
By traveling to China, Pakistan may be trying to underscore China's value as a counterweight to the US. Mr. Gilani has reportedly also tried to bring Afghanistan into China's camp to form a de facto alliance between the three countries.
Such a pact could shift the balance of power in the region. China has watched with some concern as the US develops a strong foothold in Central Asia and would like to expand its influence. But while Afghan President Hamid Karzai has often butted heads with US officials, it remains unlikely that he would join Gilani to steer the nation away from a strategic alliance with the US.
"Afghanistan cannot get as much benefit from other treaties as they have from their with America," says Ahmad Sayeedi, an independent political analyst in Kabul and former Afghan diplomat to Pakistan. "If we look to the nature of most international treaties, except for NATO, they are just symbolic. They haven't taken any major actions until now."
---