In China, middle-class affluence, not political influence
A new Volkswagen and a Singapore vacation are the badges of affluence for one Chinese couple. But consumer choice, not political choice, is the only freedom China's middle class now enjoy.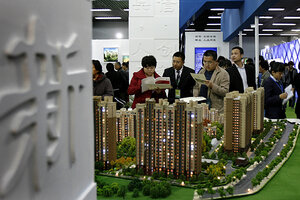 Li Ying/Xinhua/Zuma press/Newscom
The cramped two-room apartment filled with cheap, mismatched furniture where Liu Likang lives with his wife, Xu Yao, would hardly pass for a middle-class dwelling in America. Uncarpeted, lit by a harsh light bulb hanging from the ceiling without a shade, the rented bedroom-cum-sitting room looks more like temporary student lodgings. Outside on the street, however, sits their brand-new Volkswagen sedan, a sleek status symbol that proclaims the young couple's achievements and ambitions as a pair of Internet start-up employees who are going places.
These are the sort of people whose historical equivalents in 18th- and 19th-century Europe developed political ambitions to match their economic status and fueled the rise of democracy.
Mr. Liu laughs at the suggestion that the same thing might happen in 21st-century China. "Undeniably, the people in power hope the country will develop and people will have a better life," he says. "But the bottom line is that the people should not challenge their power. We have given up hope of changing the government."
Still, Liu and Ms. Xu are thankful for the enormous differences between their lives and those of their parents: Liu's dad was a truck driver, Xu's was an electrician, and both were assigned their jobs by the government. "My parents earned just enough to feed the family, and they thought only about how to support us, not about making a better life or improving themselves," says Xu. "Our generation has the opportunity to do that."
---