Hillary Clinton urges Pakistan to target militants within its borders
Secretary of State Clinton's surprise visit to Pakistan is meant to show ongoing cooperation between Washington and Islamabad as popular support for the partnership falls in both countries.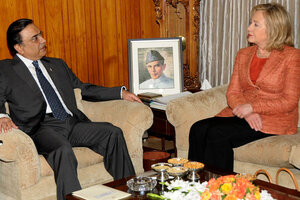 Press Information Department/AP
On a surprise visit to Islamabad, Secretary of State Hillary Clinton told Pakistani leaders that the US is committed to working with Pakistan, but that the country must take "decisive steps" against Islamic militants within its borders.
"This was an especially important visit because we have reached a turning point," Ms. Clinton said. "Osama bin Laden is dead, but Al Qaeda and its syndicates of terror remain a threat to us both."
The popular support for cooperation in both countries tanked after the US launched a raid that killed Mr. bin Laden without informing Pakistan. But today's visit demonstrates that there remains appetite among the leaders of both nations to salvage the partnership.
Each side made small conciliatory gestures. Clinton said there was no evidence that Pakistan's senior leaders knew that bin Laden was hiding in Abbottabad, close to a military academy. Pakistan recently returned pieces of a secret stealth helicopter that crashed during the Abbottabad raid and agreed to give the CIA access to bin Laden's compound.
For months, however, the US and the Pakistani military have been in a standoff. The US wants Pakistan to turn against the Haqqani network, a Taliban affiliate with Al Qaeda ties responsible for attacks in eastern Afghanistan. The Pakistani military has refused to tackle the group and instead argued for their inclusion in the nascent peace process – a nonstarter for the US.
---