Karzai gives US ultimatum on civilian deaths
Afghanistan President Hamid Karzai issued a veiled threat to the US after a NATO air strike killed 14 civilians. Some Afghans say Karzai is hurting his own standing.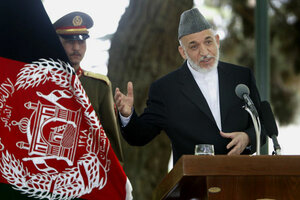 Mustafa Quraishi/AP
Hours after reports appeared that a NATO air strike had killed 14 civilians in Helmand Afghan President Hamid Karzai issued an ominous statement, giving his "last warning" to US officials.
"The president called this incident a great mistake and the murdering of Afghanistan's children and women, and on behalf of the Afghan people gives his last warning to the US troops and US officials in this regard," said a statement from the president's office.
Over the past several months in particular, this has become a familiar pattern in Afghanistan. NATO forces kill civilians, Karazai condemns NATO in dramatic terms, and then the war goes on unchanged.
Karzai's condemnations, which have yet to be followed with serious action, are likely meant to garner support among the Afghan people, who are furious about civilian casualties. But a number of Afghans say such emotional remarks may end up weakening the standing of the president.
"At the current time, I think the foreigners are used to getting warned about civilian causalities and the Afghan nation doesn't have any hope from these kinds of statements," says Farouk Meranai, a former member of parliament from Nagarhar. "It is impossible to completely stop the civilian casualties in a country where there is conflict. After Karzai's statement, which was really serious and emotional, if this kind of incident happens again, what will happen?"
---