Nepal struggles to shape a government that can govern
Nepal, which pulled out of civil war in 2006, has had three coalition governments in three years. Lawmakers just agreed to extend parliament by three months, but few are hopeful they'll soon resolve thorny issues.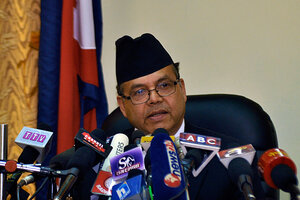 Bikram Rai/Reuters
Nepal's politicians, often pegged as excellent engineers of street protests but poor managers of state affairs, averted a political meltdown and clinched a deal this weekend that bought them three more months to sort out issues that have wracked the country for three years.
The vaguely worded deal resulted in the term extension of an elected assembly for 90 days, and the promise of resignation by the prime minister. But it was disregarded by analysts who say it offers little in terms of resolving a political deadlock that has impeded constitution-writing and the thorny task of what to do with more than 19,000 former Maoist combatants.
"The first thing the [political] parties are now likely to do is differ on the interpretation of the ambiguous deal that lacks both in details and specifics," read Monday's editorial of Republica daily.
Akhilesh Upadhyay, editor of the Kathmandu Post, wrote Monday, "It was the very absence of details in the Comprehensive Peace Agreement that led the parties to define contentious post-conflict issues as integration and rehabilitation to suit their own interest."
The deal agreed upon by the ruling Unified Communist Party of Nepal (Maoist), the Communist Party of Nepal-Unified Marxist Leninist, and the main opposition Nepali Congress stipulates that by August 28, the peace process with Maoist former rebels should be concluded, a first draft of a new constitution be made ready, and a new coalition government representing all major political forces be formed.
---