Afghans concur with Congress that aid money is often misspent
A congressional report released Wednesday on the $18.8 billion that Congress appropriated for Afghan development says the aid often funds fruitless projects.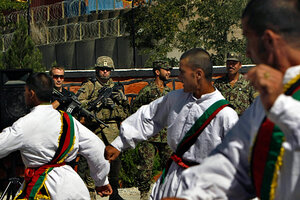 Gemunu Amarasinghe/AP
Afghans have long been vexed by what they see as often-ineffective use of US aid money in Afghanistan.
So a report that suggests the US government reevaluate how it invests in Afghanistan – with an eye toward ensuring that development spending create lasting solutions rather than long-term problems – is finding a welcome audience here.
"They should have made this [suggestion] years ago, even at the start of the war," says Nadir Khan Katawazai, a member of parliament from Paktika province. "Billions of dollars came to Afghanistan and except for some highways in the country and some other infrastructure projects we don't see any other benefits from that aid."
The report released Wednesday by US Congress goes so far as to say that Afghanistan may face an economic meltdown when international forces leave in 2014 if the US continues its current aid policy.
"Foreign aid, when misspent, can fuel corruption, distort labor and goods markets, undermine the host government's ability to exert control over resources, and contribute to insecurity," said the report by the Senate Committee on Foreign Relations.
Although the US has invested nearly $60 billion dollars in Afghanistan since the start of the war, the report examined only the $18.8 billion appropriated by Congress to the State Department and the US Agency for International Development (USAID). Those two agencies alone spend $320 million each month on development in Afghanistan.
The sheer volume of cash invested into the impoverished country has reshaped the economy. Now 97 percent of Afghanistan's gross domestic product (GDP) comes from spending related to the international military and development community.
---