After Osama bin Laden raid, hopes dim for more civilian control of Pakistan military
Seating a commission to investigate Osama bin Laden's presence in Pakistan has proved difficult. But some see progress in the fact that the conversation about control of national security policy is at least being addressed.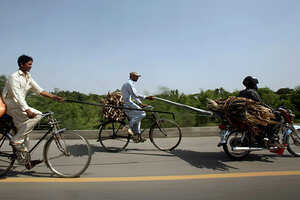 Muhammed Muheisen/AP
A government commission aimed at answering how Osama bin Laden remained in Pakistan and how the US killed him undetected has run aground, dampening popular hopes for greater civilian control over the military.
Pakistan's parliament called for the commission's formation after putting tough questions to military and intelligence leaders in a stormy, closed-door session last month. However, when five members were named to make up the commission last week, one abruptly declined his seat, and the process remains under fire.
An honest investigation into Mr. bin Laden's presence here has the potential to pry open debate over national security policy beyond the circles of the military establishment. But those who would welcome that have been demoralized by the civilian government's lack of fight, and now bungling of the panel.
That's because "this commission on Osama bin Laden is meant and designed to ensure that nothing comes out of it," says Cyril Almeida, a political analyst in Islamabad.
"Civilian leadership has surrendered foreign policy and national security to the Army," he adds. "The civilian government's only agenda is to serve a full term" by avoiding a military coup.
Pakistan has a long history of military dictatorships. Even when civilians return to power, as they did in 2008, they have given the military wide latitude on how to handle Islamic militants and relations with neighbors.
---