Karzai blasts US, NATO for 'using' Afghanistan, announces Taliban talks
Afghan President Hamid Karzai's tendency to oscillate between support for NATO and harsh criticism of it has confounded and irked friend and foe alike.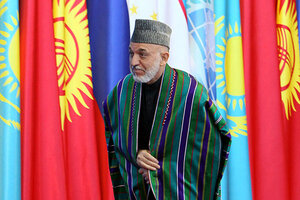 Stanislav Filippov/AFP
In what's become a familiar pattern, Afghan President Hamid Karzai delivered a speech on Saturday afternoon blasting the US and NATO for "using our country."
"The nations of the world which are here in our country are here for their own national interests," said the president during a youth conference at the presidential palace. He went on to accuse them of polluting Afghanistan with military vehicles and also announced that negotiations have started with the Taliban.
Since March, he has called on the US and NATO to stop operations here (only to later clarify that he meant operations that result in civilian casualties) and given them a stern ultimatum to stop killing civilians. Shortly after each controversial speech, he usually reaffirms ties with NATO and the US.
Karzai's tendency to oscillate between positions at either end of the spectrum has confounded and irked friend and foe alike, leading to speculation among American diplomats that he may be struggling with a mental illness. But some Afghans say that the main problem could be that Afghans leaders – traditionally used to tailoring their messages to navigate shifting allegiances – are just not used to coping with modern, international media that stand ready to expose any contradictory remark.
---
Follow Stories Like This
Get the Monitor stories you care about delivered to your inbox.