Why NATO and the Taliban are stepping up the fight - even as talks get under way
Afghanistan saw an uptick of violence as Afghan President Karzai announced that the US and the Taliban are, indeed, meeting.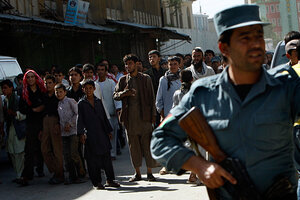 Gemunu Amarasinghe/AP
New Delhi; and Kabul, Afghanistan
Two big pieces of news emerged this weekend from Afghanistan: dramatic reports of violence and confirmation that the United States and the Taliban are meeting. The fighting does not mean talks are not serious, say experts who expect both to coexist as the country struggles to find its equilibrium.
Just hours after Afghan President Hamid Karzai confirmed reports of talks between the Taliban and the US, gunmen stormed a police station Saturday near the presidential palace. The same day, eight NATO troops were killed. Today, a pair of drones struck Pakistan in Kurram Agency, a region rarely under fire by US drones.
While intense fighting does not help the rapport between negotiators, both sides want to show battlefield momentum in order to attain more leverage at the peace table. The decentralized nature of this insurgency also makes cease-fires a less likely feature of this peace process.
"Talking to one group of insurgents that are a part of this network cannot prevent violence from other pillars of this network," says Waliullah Rahmani, a security analyst in Kabul. That may be true even if a peace deal eventually is reached. "Violence will continue, and those that are irreconcilable, they will intensify their efforts and their insurgency."
---