One year after its worst flooding, is Pakistan ready for monsoon season?
Pakistan's record floods last year killed some 2,000 people and displaced 20 million. Many officials say the country is still not properly prepared to deal with this year's imminent monsoon season.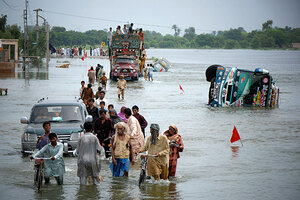 Khalid Tanveer/AP/File
Almost one year after the worst floods in its history, Pakistan's response to major flooding predicted for next month could be compromised by deep flaws in its disaster management response strategy, say current and former top officials.
Last year's catastrophic floods covered almost a quarter of the country, killing some 2,000 people and affecting upward of 20 million. This year, rainfall is expected to be about 10 percent lower than in 2010, and authorities say 2- to 6 million people could be adversely affected.
But that's a best-case scenario. Factors ranging from limiting the powers of the National Disaster Management Authority (NDMA), to a failure to desilt dams, plant trees on heavily deforested land, and draw up new plans for flood zoning could mean a repeat of last year's widespread loss of life and property destruction, say multiple officials at the NDMA.
"The scenario is pretty grim. We haven't done a lot since last year – the sanctioned strength of the NDMA has not been increased, in fact we're still facing a severe shortfall," says one senior official, saying a full staff of 21 officers had an annual budget of only some $740,000.
And then, there is the murky matter of politics.
The NDMA has been nominally empowered by a parliamentary bill to head up the full spectrum of Pakistan's disaster response. But its authority has eroded due to the expanded role of the Earthquake Reconstruction & Rehabilitation Authority (ERRA) headed by lawmaker Hamid Yar Hiraj, whose political party was brought into the ruling coalition late last year in order to shore up the weak civilian government.
"When you give a clear cut responsibility to NDMA, which is the lead organization for disaster management, then you need to empower it, you need to support it. In our country, one of the issues is that even when you have legal mandate, you need the ownership of the highest level. And when that is missing, some of the institutions become redundant," says Gen. Nadeem Ahmad, the former head of the NDMA who resigned two months ago over the political controversy.
---