How Pakistan's Imran Khan taps anti-Americanism to fuel political rise
Cricketer-turned-politician Imran Khan is to Pakistan what Sarah Palin is to the US: controversial, and, arguably, a force to be reckoned with.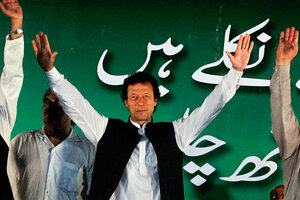 Athar Hussain/Reuters/File
Imran Khan once won glory for his country as its most successful cricket captain. After making an unspectacular debut into Pakistani politics as leader of the Movement for Justice party 15 years ago, he positioned himself as a maverick outsider calling for sweeping reform within Islamabad's murky corridors of power.
Now, it looks as though he might be about to make a comeback on the wave of anti-American sentiment that's sweeping the country.
Mr. Khan's political life appears to be experiencing a new high thanks in part to his unique brand of anti-Americanism, which finds support among Pakistan's professional classes, youth, and women.
According to research carried out by Pew polling in Pakistan, he enjoys a 68 percent approval rating, making him Pakistan's most popular politician, up from 52 percent last year. The relationship between the United States and Pakistan, meanwhile, has sunk to new lows in recent months, following the Osama bin Laden raid and the release of a CIA agent who killed two Pakistani citizens.
Long derided as a non-serious candidate in an electoral system dominated by two major parties, Khan surprised political pundits last month by attracting thousands of supporters to a major protest in the northwestern city of Peshawar against US drone attacks in Pakistan's tribal areas, before going on to stage a sit-in to "symbolically block" NATO supply lines for Afghanistan that pass through the port city of Karachi.
---