How will the Kabul raid affect a peace deal? [VIDEO]
Neither Afghan nor American observers expect the Kabul attack on the InterContinental Hotel to shut down the peace process.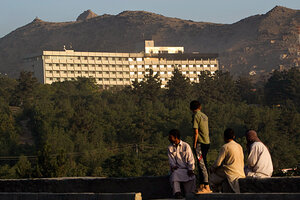 Ahmad Masood/Reuters
For all the talk about peace negotiations with the Taliban, one word rarely comes up: cease-fire. Instead, the US and the Taliban talk while shooting, a fact brought home again with the major terrorist attack overnight on a landmark hotel in Kabul.
The siege left seven civilians dead, including one Spaniard. Taliban spokesman Zabihullah Mujahid says one reason his group struck the InterContinental Hotel was the presence of foreigners.
Such provocative targeting of civilians by the insurgents, as well as the civilian deaths that result from US-led operations, erode trust around the negotiating table. However, since both sides clearly intend to try to show a stronger hand on the battlefield, neither Afghan nor American observers expect the attack to shut down the peace process.
"When you see this kind of incident, especially in Kabul, it brings mistrust among the people over the peace process, but it does not means we will sit quiet and stop the peace efforts," says Attaullah Lodin, a member of Afghanistan's High Peace Council.
He says at this point the peace talks have to involve those who deepen insecurity, including "foreign forces killing innocent and weak Afghans in the villages in their raids and bombings, or those [insurgents] who carry out attacks on the mosques and crowded areas."
For many Westerners there is not the same equivalency between so-called collateral damage from military missions that target insurgents and a group that goes door-to-door in a hotel to hunt guests.
---