Ethnic violence paralyzes teeming Karachi
Over the past week, violence has flared in sprawling Karachi slums, killing nearly 100 people and bringing parts of the city to a standstill.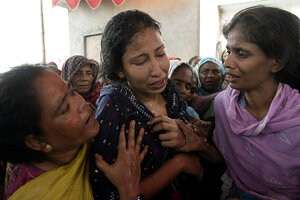 Fareed Khan/AP
Over the past four days, a wave of ethnic violence has killed at least 95 people in Karachi, paralyzing Pakistan's largest city. Some roads are deserted, shopping malls and markets are shuttered.
Masked militants used Molotov cocktails and rockets, attacked public passenger buses and burned down houses, killing 25 people on Friday alone, mostly in hit-and-run terror attacks in ethnically mixed districts of the city, says police and residents.
With shoot-on-sight orders, paramilitary forces and police have intensified patrols in troubled neighborhoods in an effort to quell the city's deadliest episode of ethnic violence.
At the center of the bloodshed are districts of Orangi and Qasba Colony, considered to be among the biggest slums in South Asia, with mixed population of Pashtuns and Mohajirs. The labyrinthine alleys of these poor neighborhoods are edged with hillocks where militants armed with automatic weapons and rockets have taken up positions.
"We are besieged with no rations, no water for three days," says a resident, Abida Khatoon. "We feel like moving targets as there is intense firing from every direction."
While Mohajir and Pashtun ethnic parties have not traded accusations over the fresh round of violence, tensions between the two groups have recently flared.
---