Pakistan's rocket fire into Afghanistan alarms locals, US forces
Pakistan has fired about 700 rockets and artillery shells at militants in Afghanistan, complicating the efforts of US forces on the ground.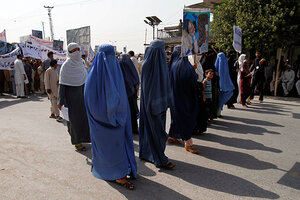 Rahmat Gul/AP
Kunar Province, Afghanistan
Just when it seemed like the situation couldn't be any more complicated for NATO soldiers in Afghanistan, Pakistan added another layer to the war by launching cross-border attacks on militants.
Dozens of Afghan civilians have been killed or injured by the artillery fire and at least one round landed about 2.5 miles from an American base a few weeks ago. One illumination round fired over an American patrol at night compromised their position.
While Afghan and US officials are in talks with Pakistan to end the strikes on militants, US soldiers experiencing the direct effects of the artillery fire are caught in an uncomfortable middle ground. Commanders say the longer it takes to find a solution, the greater the risk of fueling the insurgency and alienating locals from the Afghan government.
"That's my biggest concern, that this Pakistani issue will just increase militancy among the population," says US Army Capt. Michael Kolton, who commands the Bravo company in the 2-27 Infantry Battalion in Kunar.
In recent weeks, Afghan government officials estimate that more than 700 Pakistani rockets and artillery rounds have been fired at targets on the Afghan side of the border. Although some rounds have killed civilians, the Pakistanis are likely targeting insurgents who have carried out attacks inside Pakistan and take refuge in the mountains of Afghanistan.
"It's important that the [American and Pakistani] units talk to each other across the border. We have common goals," says US Army Lt. Col. Dan Wilson, commander of the 2-27 Infantry battalion.
---