Pakistan says it doesn't need US military aid
The $800 million in cuts in US aid to Pakistan are the strongest indicator yet of the deteriorating relationship between the two countries.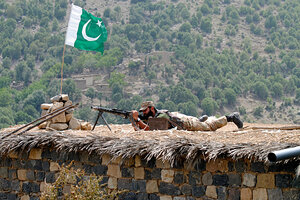 Mohammad Zubair/AP
Pakistan's Army said Monday that a US military aid cut worth some $800 million won't affect its ability to conduct combat operations. Analysts call the cuts the strongest indicator yet of the deteriorating nature of the relationship between the two countries and say it could cause the Pakistani military to retreat to a more hostile anti-US position.
"The Army in the past, as well as at present, has conducted successful military operations using its own resources without any external support whatsoever," Army spokesman Maj. Gen. Athar Abbas, told the AFP. He added that the Army had not received any official correspondence from the US on the matter.
General Abbas's statement might be a stretch, but according to Ayesha Siddiqa, military analyst and author of "Military Inc," the symbolism of the cut is likely to outweigh the operational significance, despite the fact that the cut would account for roughly 40 percent of the $2 billion in military assistance America gives Pakistan annually.
"It's an indicator of relations getting pushed further apart," she says, adding that with the cut the US appears to have called the Pakistani's military's bluff on a recent statement attributed to Army chief General Kayani in which he said that US military aid to Pakistan would be better spent on civilian purposes.
---