Mumbai blasts: Angry residents demand answers on security(VIDEO)
Three bomb blasts hit the Indian commercial capital of Mumbai, a city that still has sharp memory of the 2008 Mumbai attacks. Many residents want to know how it could happen again.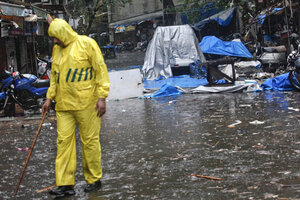 Danish Siddiqui/Reuters
For a city usually hailed as resilient and stoic, Mumbai today is seething with anger following the latest bomb attacks that many say have exposed a lack of security there.
As investigators sift through the wreckage at three sites looking for clues, residents are demanding to know why they are still at risk, despite assurances that security measures and coordination would be stepped up after the last Mumbai bombings in November 2008. But with little evidence of an actual intelligence failure, and with a divided opposition, India's Congress-led government is unlikely to suffer any dramatic political repercussions.
During yesterday's evening rush hour, bombs exploded in three locations in the crowded, often chaotic city: in the upscale southern Opera House district, in the crowded Zaveri Bazaar market, and near a busy transport hub in the suburb of West Dadar, a few miles north of the city center. At least 17 people were killed, and another 131 injured, 23 of them critically.
"There won't be any candlelight vigils this time," says journalist and Mumbai resident Joeanna Rebello. "Everybody wants action."
The morning newspaper headlines read, "Yet Again," and "Attacked. Again," and "We're All Sitting Ducks."
On Twitter, Mumbai residents quickly mobilized to offer transport help and provide instant updates, at the same time venting their frustration that another attack has occurred.
"In situations like yesterday, Mumbai seems to ignore the first four stages of grief and makes a beeline straight for acceptance," wrote blogger Suma Nagaraj. "But does it make up for the injustice that's meted out to Mumbai over and over again?"
---