Pakistan school offers orphans refuge to prevent turn to militancy
A Muslim charity provides free schooling to Pakistani orphans, putting itself at the forefront of a national effort to close the education gap and reduce the appeal militancy holds for children.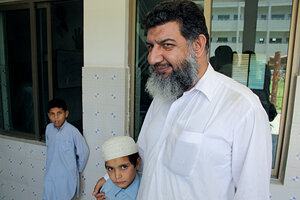 Ben Arnoldy/The Christian Science Monitor
At the age of 8, Khalil Rehman saw a US drone kill his father at their home in South Waziristan. In an instant, the boy became an orphan in the tribal areas of Pakistan, which meant his education and future prospects went up in smoke.
Some armed fighters had recently crossed over from Afghanistan, and Khalil's cousin had given them temporary shelter. His father was visiting them when Khalil, returning from mosque, saw and heard the explosion.
His mother survived, but in Pakistan a child becomes an orphan if his father dies. With the loss of his father's salary, Khalil could not afford to go to private school and there were no public schools around.
For the next three years, the boy worked on farms until his mother heard about Ummah Children Academy, a free boarding school in Nowshera for orphans.
"I want to be an engineer," says Khalil, now a confident 12-year-old sitting beside two other classmates who were also orphaned by drone attacks. "I am happy over here. Living at home is very good but we have to sacrifice it for getting an education."
Pakistan is undergoing an education crisis. Some 10 percent of the world's primary school-age children who don't attend school live in Pakistan, according to the Pakistan Education Task Force.
---